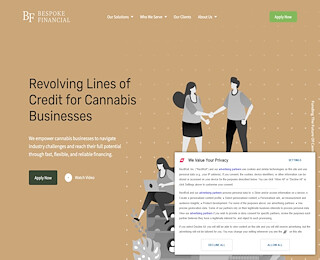 Cannabis industry entrepreneurs can finally apply for loans as marijuana becomes legal in more places each year, and cannabis lines of credit are the most flexible type of loan available to cannabis business owners. A cannabis line of credit works similarly to how other business lines of credit work. Here's what you need to know about our cannabis lines of credit.
What Is A Cannabis Line Of Credit?
A cannabis line of credit is a type of revolving credit offered by many lenders and credit unions, which allow businesses in states with legalized medical or recreational marijuana to borrow money. 
The line of credit is a short-term loan based on an existing account that allows you to access your credit line whenever it's needed. Line-of-credit accounts are also called revolving accounts or credit cards because they revolve or roll over each month. In contrast, you do not receive a lump sum of funds when you borrow money.
How Does Line of Credit Financing for Cannabis business Work?
A credit union or bank will assign you a credit limit when you apply for a line of credit. It is possible to borrow up to that limit, but you will only pay interest on the funds you use. Besides making a minimum monthly payment, your lender will allow you to re-access cash once you repay the borrowed funds. 
Additionally, your interest rate and payments are usually fixed for your loan's entire life, which makes budgeting easier and financing costs easier to predict.
No matter your credit history, you may qualify for our Line of credit. We approve customers solely based on cash flow and other performance factors.
The Pros of Cannabis Credit Lines
Improves Cash Flow in Slow Seasons
Everyone knows that cash flow is a crucial part of every business. Whether it's booming or in its slow season, managing cash flow well will help keep your company financially healthy. Because of federal laws against marijuana, banks tend to stay away from working with cannabis entrepreneurs. A cannabis line of credit can help access cash flow when you need it.
It Uses a Pay-Per-Use Model
The amount of interest you pay for a cannabis credit line depends on how much you use. Depending on your agreement, you may pay off the balance at any time.
Improves Your Cannabis Business Adaptability
Suppose you are a CBD manufacturer and your supplier's price is significantly reduced. If it's a limited offer, you might not have the funds to take advantage of it. You will not miss out on a great opportunity by using our cannabis lines of credit!
A cannabis line of credit offers much better terms and rates than most payday loans and other short-term finance options. You can get access to funds more quickly, so you don't have to worry about paying additional fees.
How Do I Get a Loan For Cannabis Business?
We understand the cannabis industry dynamics, and that's why we offer loans and lines of credit to cannabis businesses at competitive rates. For more information about our cannabis lines of credit or to discuss how you can finance your cannabis business, call Bespoke Financial today at 323-508-1280 or email sales@bespokefinancial.com.
Cannabis Credit Lines